This post originally appeared on Orphan Road.
As a result of dropping differential equations this quarter I decided to start a 10 credit independent study on transit information usability for my urban planning minor. I started doing some preliminary research tonight and stumbled upon the most amazing widget I have seen (http://worrydream.com/bartwidget/).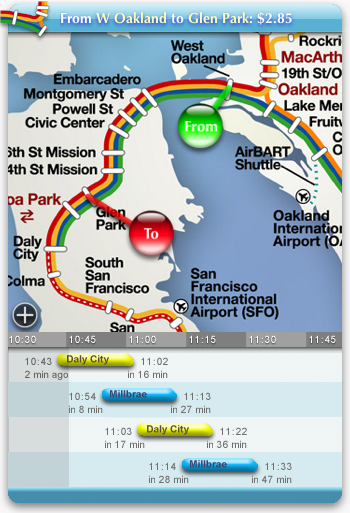 This widget plans your trip in an easy to understand manner. Just drag and drop your starting and ending locations. It tell you where to transfer and how much the trip will cost. It will even set off an alarm to let you know when you should leave. Its elegant and easy to use. Sorry PC, it only works on macs.
For the past months I have been really interested in how transit information affect a users understand of the service. Transit information ranges from cheap and easy things like adding "frequent service" or approximate headways to bus schedules, to expensive things like implement system wide Nextbus service like what MUNI did.
I'm doing primary research for the next month or so. If you have any information that you think might be useful please let me know.
PS Now that I know how to post on here expect to hear from me more often.
Bejan